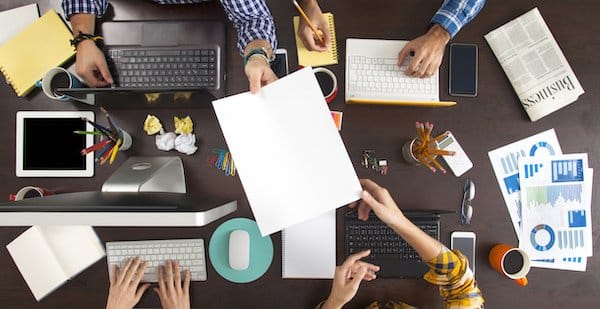 With the rising popularity of "work from home" policies, businesses have a growing need for effective collaboration tools that make it easy to coordinate work from anywhere. This has given rise to a new industry of business communication and collaboration tools with two leaders: Slack and Microsoft Teams.
These two competing products are at the pinnacle of the business communication and collaboration tool market. This naturally leads to comparisons and Google searches like, "Which is better Slack vs Microsoft Teams" or, "What is Microsoft Teams vs Slack?"
So, which of these two tools is the best business communication solution for your business? Let's take a look at some of the Microsoft Teams features vs Slack to see which one provides the performance and convenience your team needs.
Microsoft Teams Vs Slack: Cost Comparison
One of the first things that most companies check when comparing Slack vs Microsoft Teams collaboration software is the price.
If you go to the Slack pricing page, you'll find that the platform has three pricing tiers: Free, Standard, and Plus. As of April 12, 2019, the prices for each are:
Free. $0;
Standard. $6.67/month per user if billed annually ($8 on a month-to-month plan); and
Plus. $12.50/month per user if billed annually ($15 on a month-to-month plan).
Compare this to the Microsoft Teams app, which also uses three tiers that are each billed annually: Free, Office 365 Business Premium, and Office 365 Enterprise E3. As of April 12, 2019, the costs for each tier are:
Free. $0, limited to 300 users;
Office 365 Business Premium. $12.50 per user per month, limited to 300 users; and
Office 365 Enterprise E3. $20.00 per user per month, unlimited users.
In a pure cost comparison, Slack appears to be the more attractive option for each paid tier of service. However, the Office 365 subscription tiers for Microsoft Teams collaboration software include access to the desktop versions of Microsoft Office applications such as Word, Excel, PowerPoint, and OneNote. If you're already using any of these applications, you can enjoy the convenience of having an all-in-one vendor for your business communication and collaboration software rather than having to keep track of two (or more) different vendors.
Microsoft Teams Vs Slack: Collaboration Tools Comparison
While cost is always a factor when comparing collaboration platforms, it's also important to consider what specific collaboration tools each platform offers. Here's a comparison of Slack vs Microsoft Teams collaboration tools:
Calls/Audio Conferencing Solutions. At the "free" tier, Slack allows for one-on-one voice and video calls, but lacks screen sharing features. Both of the subsequent tiers enable up to 15 people to video conference and screen share for easier collaboration. Teams, on the other hand, allows both one-to-one and group online audio and video calls at all tiers (with screen sharing), with options for additional audio conferencing add-ons.
Online Document Collaboration. Microsoft Teams task management enables easy sharing and editing of files with PowerPoint, Word, OneNote, and Excel included in the online app at all levels. Slack integrates with other tools, requiring extra setup—the free version is limited to a total of 10 integrations, while the other tiers enable unlimited integrations. Slack's integrations may or may not enable simultaneous editing of documents, depending on the integrated software in question.
Message Logs. One of the primary collaboration tools offered by Slack and Microsoft Teams is the "team chat." This chat log lets users share updates with their teams, send links and files to specific team members, or check on the status of specific team members. On Slack, teams are restricted to having a set number of messages "remembered" by the platform (10K), unless they're on a paid plan. Microsoft Teams, offers unlimited messages at all tiers.
Data Storage. Part of collaboration is being able to quickly and easily share critical files with coworkers. Both Slack and the Microsoft Teams desktop app give their users some storage space to upload and share files. For Slack, the limit changes for each tier. At the free tier, storage space is limited to 5 GB total—the Standard and Plus tiers each up this to 10 GB per team member and 20 GB per team member. Meanwhile, Microsoft Teams offers 10 GB of shared storage and 2 GB of storage for each user on its free tier—both of the other tiers provide 1 TB (or 1,000 GB) for the organization and an addition 10 GB of space for each license.
So, if a company had 50 employees, Slack would provide a total of 1,000 GB of space and Microsoft Teams would provide 1,500 GB of space (1 TB shared and 10 GB additional space per employee)—at 100 employees, both solutions provide the same total storage at the top tier (2 TB). In the Microsoft Teams vs Slack comparison, Teams beats Slack for storage space at all levels for organizations with under 100 employees.
Microsoft Teams Vs Slack: Comparing Security & Compliance
Security is an enormous issue for any organization. Data breaches and leaks of sensitive information can cost an average of 3.86 million dollars, according to the 2018 Cost of a Data Breach Study by Ponemon and IBM. So, any business communication and collaboration software you use needs to be as secure as possible.
Microsoft Teams and Slack both offer increasing levels of security with each tier of their respective platforms. Here's a list of some of the security measures used by each platform:
Two-Factor Authentication. This is built into all tiers of Slack. Microsoft Teams, on the other hand, does not include it in the free tier, but offers it on both of the other tiers.
Data Encryption. Microsoft Teams encrypts both data-at-rest and data-in-transit regardless of tier, keeping malicious actors from being able to interpret stolen data. Slack's pricing page does not specify that it uses encryption, but other sources, such as PCMag.com, do note that, "Microsoft Teams and Slack both encrypt data, messages, and files."
Administrator Controls. Slack does not provide any administration controls on its free tier, while the standard tier offers custom user groups, and the plus tier provides user provisioning/deprovisioning and real-time active directory sync with OneLogin, Okta, and Ping. Teams' free tier is similarly lacking in administration controls. However, the paid tiers both add a wealth of administrator options, including:

Auditing and reporting tools;
Enforced multifactor authentication;
Content restriction options;
Bot setting controls;
Data storage policy controls; and
The ability to turn Teams on or off for the whole organization.
As noted in the PCMag.com article, "Microsoft Teams and Slack are ISO 27001-compliant, but Microsoft adds a heap of other security and compliance certifications for Microsoft Teams, including ISO 27018, SSAE16 SOC 1 and SOC 2, HIPAA, and EU Model Clauses (EUMC)." So, in the security comparison for Slack vs Microsoft Teams, Teams comes out ahead.
To sum up the comparison between Slack and Microsoft Teams, here's a table: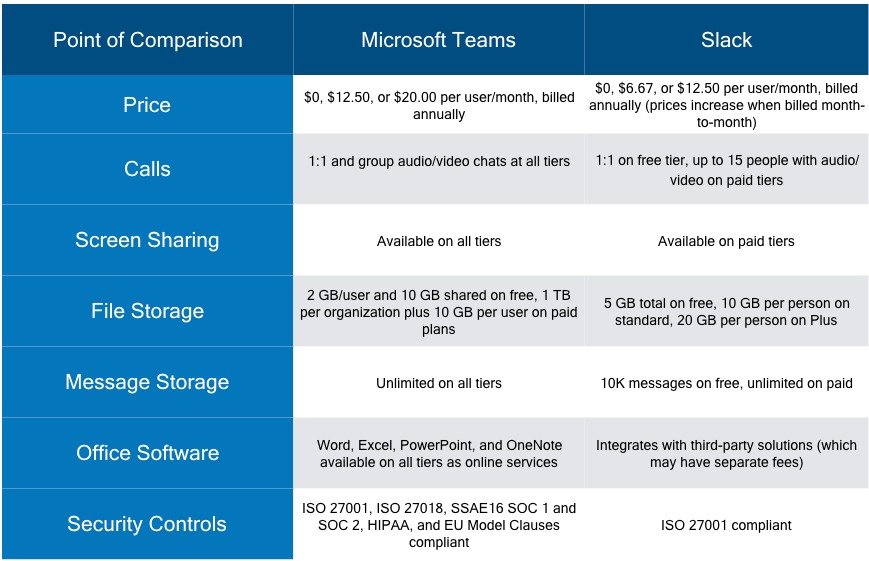 All in all, Microsoft Teams outperforms Slack as a business tool, providing more built-in collaboration tools, better security, and more storage—which may be well worth the higher price point for many organizations. In fact, simply being bundled with Word, Excel, PowerPoint, and OneNote in the free version of the tool (and adding OneDrive, SharePoint, Planner, Yammer, and other 365 services in the paid versions) may more than equalize the cost differences between the two platforms.
Want to learn more about Microsoft Teams and how you can leverage it (and other business collaboration tools) to improve your organization's efficiency? Schedule a call with the Protected Trust team.
{{cta('54544fb8-0be5-42a8-ab88-3fa64f956db5')}}