In today's digitally-driven business world, mobility is crucial. As remote work and Bring Your Own Device (BYOD) policies become more commonplace, it's hard to do business if you aren't able to effectively work from various devices and locations.
So, wouldn't it be beneficial if you had the power to communicate and collaborate with your colleagues without needing your computer? Your answer should be "Yes!"
Microsoft Teams is innovating  every day to create collaboration and communication experiences that naturally extend to your mobile devices. If you're traveling, working remotely, or simply on-the-go on a business day, you may not have your laptop handy—but we bet your cell phone is always on you.  
That's why, as Microsoft releases new capabilities into Teams for desktop use, they're also ensuring that the Teams mobile app is able to meet your daily communications needs, too. Below are a few features in the Teams mobile app focused on helping you call and meet with coworkers and clients alike.
Elevate Meetings and Calling Experiences
The Teams mobile app includes numerous features that enable you to have seamless, higher-quality meetings and calls. When you are able to communicate without inefficiencies and technical difficulties, business can keep moving forward!
Join Calls and Meetings
Initiate, receive, or join 1:1 calls and scheduled meetings via audio with Voice over Internet Protocol (VoIP), video, or phone* with internal team members or others outside your organization. If you need to add more participants to an ongoing conversation, the Teams mobile app allows you to search for additional members or enter a phone number to join a call or meetings.
*Note: requires Phone System and/or Audio Conferencing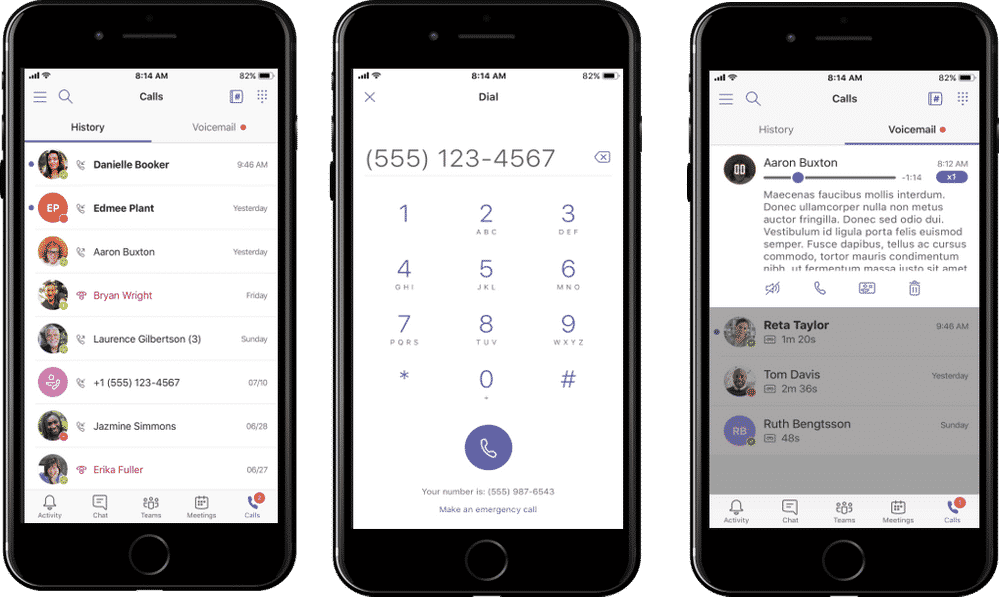 Share Content and Control Presentations
Share your iPhone or iPad screen, images, or live video stream with others meeting attendees. Additionally, attendees can view presentations or request control to be able to advance slides themselves. Alternatively, they can view the presentation in a private mode and skip ahead. You can also share an Android screen and files from cloud storage apps including OneDrive and SharePoint directly in the mobile app.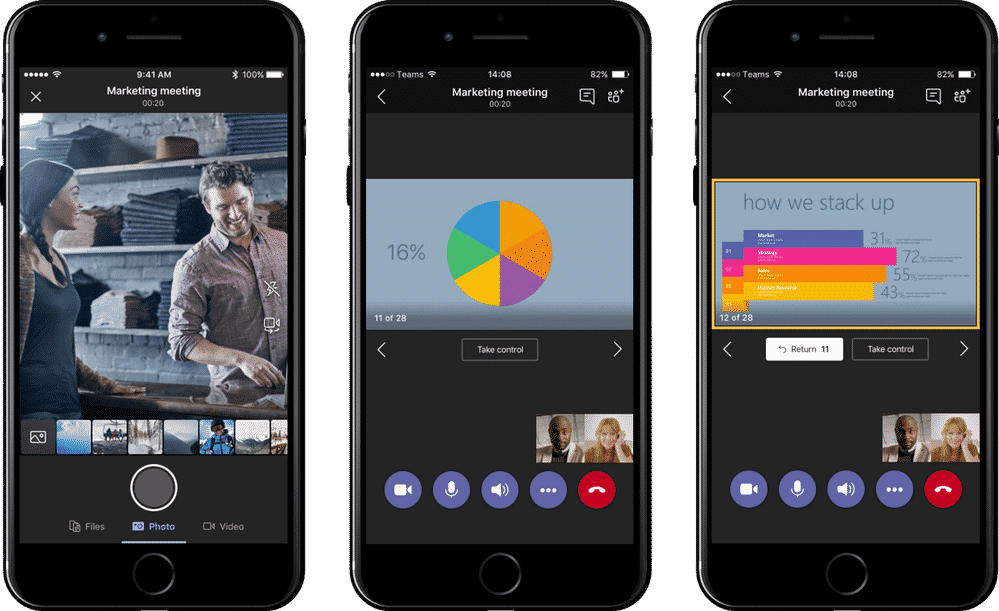 Transfer Calls and Configure Call Forwarding and Simultaneous Ring Settings
Once in a call, you can seamlessly transfer individual calls to another team member or a phone number. You can also configure call forwarding and simultaneous ring settings in the mobile app to ensure you never miss an important call.
Check Your Voicemail
Retrieve all voicemail messages and transcripts* so you can stay on top of important messages. You can also configure your settings and change your voicemail greeting directly in the mobile app.
*Note: requires a license to Phone System in Office 365
Experience Network and Battery Optimization
There are a few intelligent features within the Teams mobile app for network and battery optimization that help improve your overall calling and meeting experiences. You can rest assured that when you're connecting and communicating with others, the Teams mobile app will provide you the best possible experience.
Bandwidth Optimization
It's happened to everyone: you're in an important meeting when your call gets dropped or you can't hear anything due to a poor network connection. Avoid this frustration with the Teams mobile app! If you happen to have a shaky internet connection while in a meeting, the app gives you the option to send a 'Call me back' note with an alternative number you've set or to re-join via a phone call. Additionally, Teams will prompt with you with the option to switch from video to audio, allowing you to continue the conversation with high-quality audio when video isn't available.
Battery Optimization
Teams proactively monitors your battery life and gives you options to reduce battery consumption levels. During a meeting, Teams will prompt you to switch from video to audio mode and also provides you the option to turn off all incoming video from others if you're running low on battery. This way, if you're traveling or on-the-go and don't have a charger handy, you can optimize your battery life.
Do you think your business would benefit from these calling and meeting features within the Teams mobile app? Try them out for yourself by downloading the app in the iTunes App Store, Android App Store, or Google Play store.
If you already have an Office 365 account, once you install the app and sign in, the information from your Teams desktop app will automatically sync to the mobile app. If you aren't currently a Microsoft Teams user but want to try out the app before making a purchase decision, you can sign up for a free trial!
The Teams mobile app can your key to mobility in our modern business world. We're ready to help you effectively implement this tool so you can get the most out of its valuable features. If you're ready to implement the Teams mobile app in your business, contact one of the Protected Trust experts today!
{{cta('54544fb8-0be5-42a8-ab88-3fa64f956db5')}}