No employee wants to face a daily struggle to get their work done simply because they don't have access to the applications needed to do so. By making these business applications readily available to every member of your staff, employee frustration decreases while efficiency skyrockets. This increases revenue as well as employee satisfaction and team morale—ultimately reducing turnover and its associated expenses.
Revenue Growth & Customer Satisfaction
87% of CIOs believe digitally empowering their employees can drive at least 5% additional revenue growth over three years.
Source: VMware
The number one goal of most digital workplace transformation strategies is to drive revenue. Digitally empowered employees are more engaged, productive, and satisfied, which means they can produce both a higher quality and quantity of work, ultimately helping you drive more revenue. In such a crowded and competitive business market, this can help your organization develop an incredibly valuable competitive advantage.
28% of companies say improving customer experience is a top goal when formulating a digital workplace transformation strategy.
Streamlining process and elevating communication methods through new and improved technologies can help you better serve your customers and enhance their user experience. Stats on technology use prove it—45% of companies report having improved customer satisfaction as a result of using digital workplace technology.
Encourage Workplace Collaboration

63% of companies are adding small meeting rooms with collaboration technology, 56% are adding large conference rooms with collaboration technology, and 51% are adding huddle spaces with collaboration technology to their workplaces.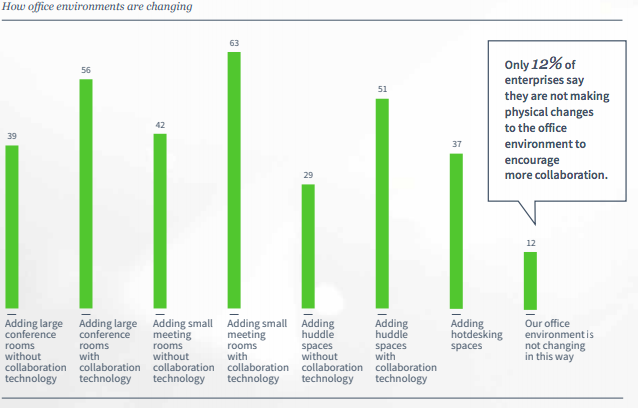 Source: Dimension Data
With so many employees now working either partially or completely remote, businesses realize they need to provide spaces for in-office employees to collaborate with their remote teammates. This is so vital that only 12% of enterprises say they currently do not have any plans to make physical changes to their office environment that would encourage more collaboration.
Employees working for companies that make the necessary business apps readily available and accessible report 17% less time spent on manual processes, a 16% increase in team collaboration, and 16% faster decision-making.
Source: VMware
Leadership isn't the only ones that know the importance of having easily accessible business apps—employees recognize its effects, too. These technology in the workplace statistics prove that streamlined processes, effective communication and brainstorming between team members, and more efficient decision-making can be the result of simply making business applications more accessible.
Adopt a BYOD Policy
69% of IT decision-makers believe Bring Your Own Device (BYOD) policies are a positive addition to any workplace as it saves employees valuable time.
Employees are on the same page as 53% of all workers polled feel they're more productive when they have their own devices. One main reason for this is that individuals typically have their own devices on hand at all times, increasing accessibility. Another is that your employees are far more familiar with their own devices than they would be with a new one they only use during work hours. Therefore, implementing BYOD policies can help improve productivity while decreasing the learning curve for new technologies.
49% of PwC survey respondents believe that wearable technology in the workplace will improve efficiency.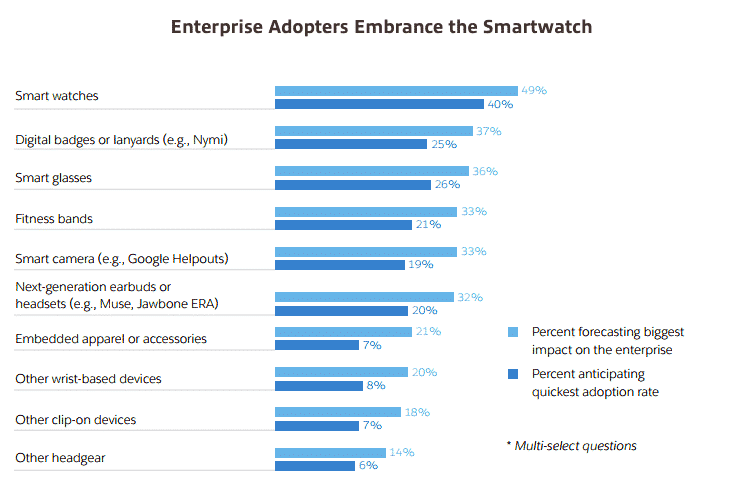 Source: Salesforce
Whether its smart watches, digital badges or lanyards, or smart glasses, more and more companies are starting to implement wearable technology in the workplace. 67% of those that have already done so report improvements in business performance—which is likely why 86% of companies expect their wearable technology spending to increase this year.
A Digital Workplace Transformation
We hope diving into these stats about technology in the workplace helped you better understand how leveraging the right tools and technologies can improve efficiency, productivity, and employee satisfaction in your organization.
At Protected Trust, our mission is to simplify technology so your business and its employees can achieve their greatest potential from anywhere on the planet. We do this with a vision of a digital workplace transformation built on an ecosystem of Microsoft Teams and the Microsoft 365 platform.
Are you ready to implement Microsoft technology in your modern workplace? Is your business already using Microsoft products or services, but would like to learn how to get more out of their features? Reach out to a Protected Trust expert today!
{{cta('f4950b3e-6346-46ce-ba5a-c1020d15f090′,'justifycenter')}}