Effective team meetings are the cornerstone of productive and efficient companies. However, remote working environments make holding effective team meetings challenging at the best of times. On the other hand, modern businesses need the benefits that remote working policies can provide—such as increased employee retention, access to a larger talent pool, and reduced costs for office space.
The question is: "How can you take your team meetings to the next level when you have both on-site and off-site employees on the team?" One way is to use Microsoft products and services to enhance collaboration between remote employees. Here are a few of the ways that Microsoft products and services such as Teams and the Surface Hub 2 can level up your team meetings.
1) Using the Microsoft Teams Mobile App to Join Meetings

The Microsoft Teams mobile app for smartphones makes it incredibly easy for your employees to join meetings. However, that isn't the only aspect of the Teams app for smartphones that helps you level up your team meetings.
Not only can the Teams app let your employees schedule their meetings ahead of time, it also allows them to:
Invite participants to an ongoing meeting by entering their phone numbers;
Share content and presentations straight from their smartphone or tablet;
Transfer individual calls to another team member to facilitate more 1:1 collaboration; and
Automatically optimize bandwidth to prevent dropped calls.
That last capability can be especially handy for ensuring better team meetings by minimizing the disruption caused from dropped calls. In all, the Microsoft Teams app empowers your people to collaborate and hold better team meetings from virtually anywhere!
2) Microsoft Surface Hub 2 Built for Collaboration

The Surface Hub 2 is the perfect platform for enabling team collaboration during meetings. With the ability to display up to four simultaneous video feeds, a 4K resolution display, high-definition cameras, and an array of both speakers and microphones to ensure no part of the conversation is missed, the Microsoft Surface Hub 2 is perfect for enhancing team meetings.
Aside from being the perfect platform for conducting team meetings, the Surface Hub 2 is designed from ground up to be used alongside Microsoft Teams. This combination of Microsoft products and services makes it super-simple to share presentation materials and collaborate in real time.
3) Utilizing a Digital Whiteboard for Online Presentations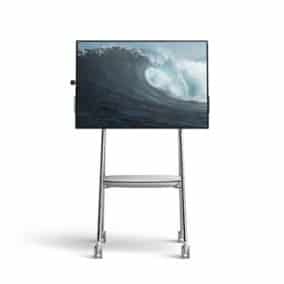 The Microsoft whiteboard app for Windows 10 devices makes walking everyone through an online presentation quick and easy. Using a simple stylus and touch screen interface allows users on tablets, smartphones, and touch screen-enabled computers like the Surface Pro to quickly draw shapes and highlight important visual aspects in online presentations.
As a Microsoft service, the Microsoft whiteboard application integrates smoothly with Office 365 to help improve its functionality. With this whiteboard feature, even employees in a remote working environment can highlight important information like they were in the room with the rest of the team.
Microsoft products and services can help bring your employees together to improve team meetings and create more effective collaboration throughout your whole organization.
Learn more about how you can leverage Microsoft products and services for your company's needs by reaching out to Protected Trust today.
{{cta('4684dd7e-36fe-4ccf-8e84-229acd99097e','justifycenter')}}