Did you know that there's a special version of Microsoft 365 for government agencies and employees? This special edition of Microsoft Office 365 is available to select government agencies and entities that handle data subject to certain government regulations/requirements.
A common question that many people have after hearing this is: "Do I qualify for Microsoft 365 Government edition?" This is often followed by: "What are the benefits of Office software for government agencies?"
Here's a quick explanation of who's eligible for this program, it's benefits for government-related organizations, and a quick list of tips for setting up Microsoft 365 Government.
Who's Eligible for Microsoft Office 365 Government?
The Microsoft website has a page detailing the exact criteria that they use to determine who is eligible for the government version of Office 365. Qualified customers are divided into two categories:
Eligible Government Customers, Including:

A federal agency within the U.S. Government;
A state or local government agency, including U.S. county, borough, commonwealth, city, municipality, etc. agencies within a state's jurisdiction and boundaries;
Agencies of special districts and/or protectorates (such as the District of Columbia, the Commonwealth of Puerto Rico, or the U.S. Virgin Islands); and
Tribal entities who are eligible for funding and services from the U.S. Department of the Interior.

Non-Government Organizations Who: Hold specific types of regulated data, such as:

International Traffic in Arms (ITAR)
Controlled Unclassified Information (CUI)
Department of Defense (DoD) Unclassified Controlled Nuclear Information (UCNI)
Department of Energy (DoE) UCNI
DoD Impact Level Data
If you're part of an organization that meets any of the above criteria, odds are that you can qualify for the government version of Microsoft's Office software.
What Are the Benefits of Microsoft 365 Government?
So, why should you apply for the government version of Office 365? What's the benefit for your organization?
Well, the big benefit is that you're getting Office 365—with all of the remote work and collaboration tools that entails—alongside some other special benefits: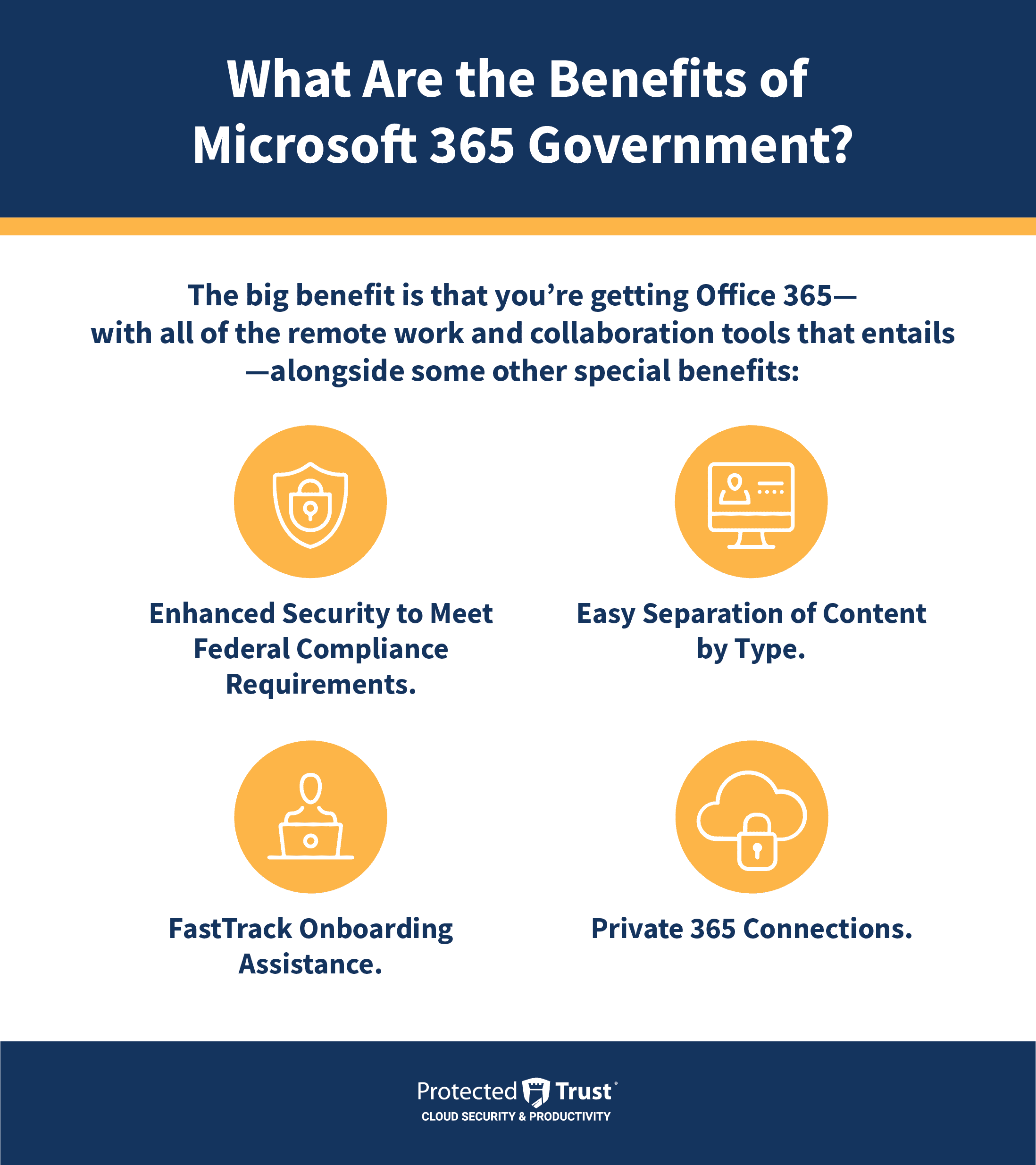 Enhanced Security to Meet Federal Compliance Requirements. Microsoft 365 Government is specially optimized to meet federal requirements for cloud services—such as FedRAMP, DoD Security Requirements Guidelines, and Defense Federal Acquisition Regulations Supplement (DFARS).
Easy Separation of Content by Type. The government version of Office 365 makes it easy to segregate your customer content from other types of content—helping to reinforce your data security in the cloud.
FastTrack Onboarding Assistance. A special team of experts will help to roll out the solution to government agency (or affiliate organization) staff and to perform migration services.
Private 365 Connections. Instead of having to use the "public internet," Office 365 Government users will have access to Azure ExpressRoute to connect privately to supported 365 services. This helps to further enhance privacy and security, even when engaging in remote work.
These benefits, in addition to the collaboration tools present in the standard version of Microsoft Office 365, help government agencies and their partners be more productive while meeting the strict security standards needed to protect against malicious cyberattacks by foreign actors.
Setting up Microsoft 365 Government
So, how can you get started on the government version of Office 365?
The first step is to complete Microsoft's online form to validate your organization's eligibility for the program. From there, you can work with the Microsoft account team or a qualified Microsoft Cloud Solution Provider (CSP) partner organization (like Protected Trust) to purchase an Office 365 Government license.
Why Work with Protected Trust?
There are several reasons to purchase your Microsoft Office 365 Government licenses through a CSP like Protected Trust:
Spreading out the Cost of 365 Subscriptions. Normally, Microsoft's 365 licenses are billed a year in advance. With a CSP like us, you can change that to a monthly rate instead of a yearly commitment.
Improved Scalability for Licenses. With monthly rates comes better scalability. Don't get stuck paying for licenses you don't need!
Access to Special Resources. Cloud solution partners have access to exclusive resources, such as software asset management (SAM) solutions that provide you with deeper insights into your data.
Help Assessing Your Microsoft Secure Score. Get help analyzing your organization's security so you can make improvements that better protects your data and assets from potential espionage.
Need help setting up Office 365 for your government agency (or qualifying business)? Reach out to the pros at Protected Trust to get started!
{{cta('f4950b3e-6346-46ce-ba5a-c1020d15f090′,'justifycenter')}}