We know you've been reading this a lot, but the world has changed, rapidly. The Coronavirus/COVID-19 pandemic has changed the way that business is conducted around the world.
People who used to sit in a conference room every Tuesday are suddenly sitting in their living rooms and meeting virtually.
That's created a need for web conferencing and collaboration tools that are powerful, secure, and reliable.
The two leading tools for this work are Microsoft Teams and Zoom.
In this article, we'll take a look at both and compare features.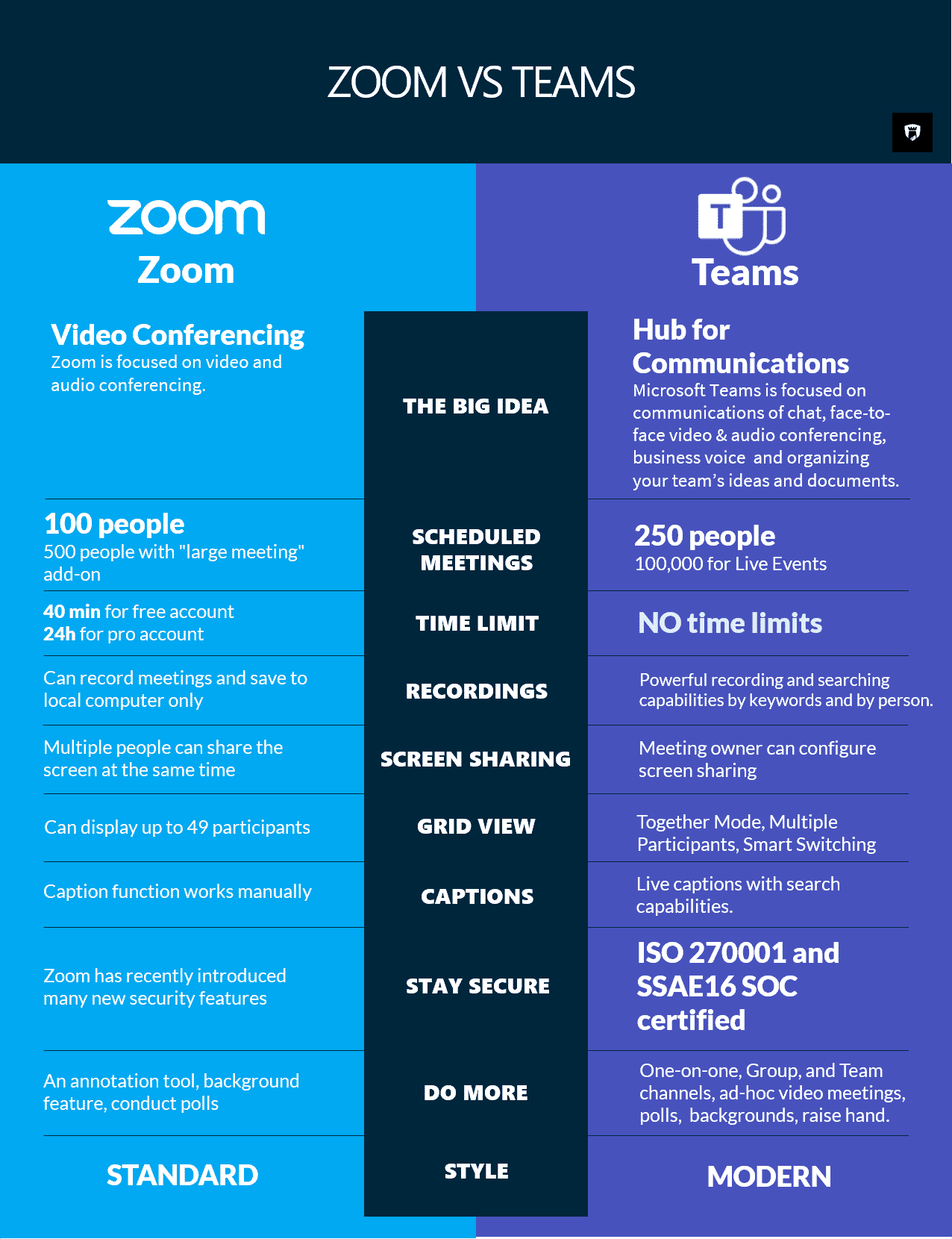 Summary
Zoom is a stand-alone web conferencing software. It offers high-quality video conferencing that's easy to set up and use. It's simple for users to be on video or dial-in, whether they're regular users or not.
Microsoft Teams works as a stand-alone, but is at its best when used with the complete Microsoft 365 suite. Teams offers a more complete chat function and captions.
For long-term use, Teams is a more complete tool. For one-off or short-term conferencing, Zoom is easy to set up and use.
What do you need?
Every business is different. Each has different needs that their conferencing software must meet.
Finding the right conferencing tool starts by considering what you're going to use it for.
One-on-one meetings
Large scale meetings with dozens or hundreds of attendees
Integrated office tools to provide a single working platform
Online training sessions
Ability to record events for later viewing
Livestream video conferences
Maintain security of data and streams
Control the location of recordings
Grid view of attendees
We'll revisit this list at the end to see which service is better for each function.
Here's a look at Microsoft Teams versus Zoom:
Zoom Video Communications
Zoom was founded by Eric Yuan, a former Cisco Webex engineer and executive, in 2011. It's first launch was in 2013.
Since the start of the COVID-19 pandemic, Zoom has seen a massive increase in usage. During that time, it has been criticized for security and privacy issues.
Microsoft Teams
Teams was created in 2017 during an internal hackathon at Microsoft. It grew out of the idea that Microsoft might acquire Slack, a similar service. Bill Gates was opposed, feeling that the firm should improve Skype for Business.
Since then, Teams has grown its functions, including letting outside participants (non-users) join events and more.
The Features of Zoom and Microsoft Teams
So how do specific features of Zoom and Teams stack up? Here's a list of the most common features and how each platform performs.
Number of participants
Zoom allows up to 100 participants in their free plan. With a plan upgrade, an event can host up to 1,000 participants. This is called the "large meeting" upgrade.
Teams allows up to 250 people to join a single meeting. This works across all of the platforms the Teams is found on, including desktop and web.
For both services, participants can be users or guests.
Recording meetings
Both services allow you to record meetings, but there is a significant difference.
With Zoom, meeting recordings are hosted only locally. This means that unless you have a website (and the skills) to post the recording online, you'll need to send the complete file to anyone you want to have view it. It would be possible to post it to a video service, like YouTube, but there might be time restrictions.
Microsoft Teams hosts the video recording on the cloud. That allows the host to share a link with anyone they want to see the meeting. While some users would prefer to keep possession of the recording, the cloud hosting is much easier for sharing later or even posting to the web.
Screen sharing
Both services let you share your screens.
Zoom lets several participants to share their screens at once.
Teams lets the admin share their screen or just a single application or file.
Length of meeting
This is where Teams is a better option.
With Teams, your meeting time is unlimited, regardless of what plan you're on. This makes Teams a better platform for longer meetings, ones that exceed 40 minutes.
Zoom restricts the meeting length to 40 minutes on their free plan. With a paid plan, that limit goes to 24 hours.
Captions
This is another area where Teams appears to excel.
Captions, written words for the hearing impaired or those who are in a noisy place, are automated on Teams.
On Zoom, the host can type in the text, but it's not automated.
Dial-ins
Both platforms allow dial-ins.
Zoom provides local dial-in numbers. Those numbers might be toll for some users and in some countries. There is an audio conferencing plan that allows the host to assign additional numbers.
Teams offers dial-in through the mobile app or using phone numbers, as well. The host has to assign numbers for the dial-in users.
Grid view
This is an area of where the extra feature might not be popular. The grid view is not always everyone's favorite.
Grid view shows all participants in thumbnail view. While this is fine for some, many people find it disorienting. In 'real life,' we tend to focus on one person at a time, being able to keep our attention from being drawn to every movement. With grid view, there's a tendency to be distracted with a lot of people moving randomly on a single screen.
Zoom allows you to have up to 49 participants on screen at once. Their images will expand and contract as people join and leave the meeting.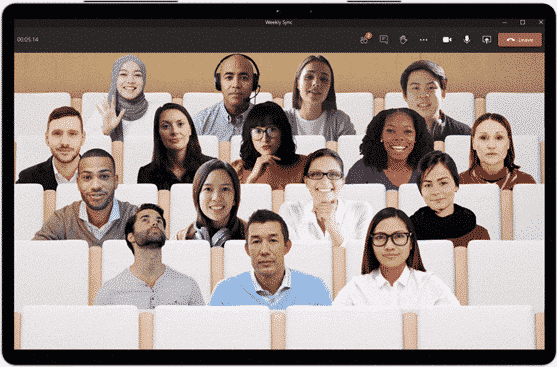 Figure: Together Mode
Teams now offers a 49 participants and more with together mode and smart switching of who is speaking.
Security
This is an area that's evolving, at least for Zoom.
Recently, as Zoom became popular during the stay-at-home orders, people found their meetings being "Zoom-bombed." Uninvited persons would show up in meetings that weren't password protected. This, and some questions regarding the privacy of user data and meetings, has caused some movement away from Zoom.
Microsoft Teams uses the same security protocols that other Microsoft products have. There are no reports indicating that meetings can be crashed by uninvited persons.
Collaboration
This feature extends into a bit of an unfair comparison.
A long established suite of tools, Microsoft Office 365 integrates directly into Teams. Sharing and viewing files and working simultaneously on a single document is simple since the entire suite of tools is designed to work together.
Zoom doesn't have its own productivity suite. While one could share documents and work on a separate platform together, Zoom doesn't integrate into its own productivity suite.
Both platforms have many partner apps that can be integrated as well.
Pricing
This is an area where things are changing as well. With the pandemic, many companies have opened up services to make it easier for everyone to use their collaboration tools.
Microsoft has made Teams free for unlimited chat, meetings, videos, and more. There's real-time collaboration with Office 365. The free version offers 10GB of free team storage and 2GB of personal storage per person. Any upgrades in Microsoft Office 365 keep all of this available for Teams.
Zoom offers a free version that allows up to 100 participants, unlimited one-on-one meetings, etc. There are three more price levels. The advantage at Zoom is that cost is per host, not per user. This means that if the boss is the only one that ever hosts meetings and there's no need for collaborative software, Zoom is a good choice.
Which is best for you – Microsoft Teams or Zoom?
This is a question that each business needs to answer for itself, but there are some marked differences that should be addressed.
If your company wants to be able to do everything from a single platform, Teams with Microsoft 365 is the obvious choice. Everything is integrated, secure, and allows for real-time collaboration and many more features.
If the need is just for a meeting software that includes up to 100 participants, Zoom is the answer. The free version is a reliable meeting software. Security concerns aside, the team at Zoom has created a good online meeting, chat, and screen sharing tool.
Reviewing our list of features from the beginning of the article:
One-on-one meetings – BOTH
Large scale meetings with dozens or hundreds of attendees – Teams (250)
Integrated office tools to provide a single working platform – Teams
Online training sessions – BOTH
Ability to record events for later viewing – BOTH (Zoom local download – Teams cloud-based saving)
Livestream video conferences – BOTH
Maintain security of data and streams – BOTH* (Zoom has some significant problems reported recently)
Control the location of recordings – Zoom – Local download
Grid view of attendees – BOTH (Teams as some innovative ways to show multiple people)
Business Experience with Teams for your Business?
If you want someone help you or get the most out of these tools so you can grow and scale your business fast so you can focus,
Check out our video to gives you a 3-step strategy that helps you transition your business to the modern workplace.